Subject: From Pixiport Fine Art Photography
---
The Pixiporter

Fine Art Photographers

In This Issue

QUICK LINKS

Greetings

My relationship with Pixiport really started when I wrote a series of articles showcasing the best images to be found on the Internet. I am currently preparing a new series along these lines, and it is just amazing how the Internet has transformed the way we compile, produce, display, and market, our creations.

This IT revolution has it's downside. Here in the UK the Regional Television stations are now asking viewers to send in their images. These are not just confined to the scenic photos for background to the weather forecasts, but are also images captured by people everywhere on their mobile phones of "news events as they happen." Of course - no mention of any payment for this service!

I feel that we are in danger of propagating a system where the lowest common denominator prevails, and talent and creativity is slowly replaced by the ability to "point and shoot." I wonder what you think about this?

Dennis was born in 1947 in the city of San Francisco, California USA, a child of a U.S. Marine and the New Zealand women he fell in love with during the War in the Pacific. His parents settled in San Francisco after the war and raised four children of whom he was the oldest. Photography was always his first love in the arts, and in 1999 he discovered the "Digital Darkroom" revolution. He now uses 35mm Nikon gear and some medium format slide film and scans into Photoshop to work his images. In his own words "Sometimes I manipulate the images very little and sometimes a lot. I print the larger prints using the Hahnemuhle collection of Fine Art Papers. I wish to capture a feel of place that gives me an emotional response to the mystery of the landscape and sea interface that I love so well. I find great creativity and thus deep satisfaction working in Photoshop to fine- tune the images." My favorite images tend to be on the dark side, with large areas of black counter pointing rich areas of color and texture with an impressionistic viewpoint.

Monte Nagler began photographing seriously after studying with Ansel Adams. Now you too can Join Monte for what will be an outstanding photography adventure to France. Here is what the itinerary looks like: July 01 Depart USA for Paris -- July 02 Arrive Paris -- July 03 Paris, Full day coach for sightseeing in Paris, Entrance to Eiffel Tower -- July 04 Paris, Entrance to Versailles -- July 05 Caen, Entrance to Monet Gardens in Giverny, Continue on to Les Andeleys -- July 07 Honfleur, Visit to St. Pierre Cathedral in Lisieux -- July 08 Bayeux -- July 09 St. Malo -- July 10 Le Mont St. Michel -- July 11 Vannes -- July 12 Carnac -- July 13 Tours, Loire Valley -- July 14 Amboise -- July 15 Paris, Entrance to Chambord Chateau -- July 16 Departure Day -- Minimum of 14 full paying passengers -- Includes: 14 nights accommodations including tax, service and daily breakfast, All necessary transfers, Local private coach & driver in Paris, Long distance private coach & driver, Independent Traveler's Book with travel tips (can you drink the water, tipping, electricity, etc), cuisine, sightseeing, walking tours, shopping & much more)! Welcome Dinner, Farewell Dinner, International air and taxes, Gratuities.
Click
for details.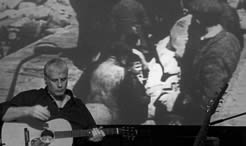 Scottish Guitarist David Allison was asked to write music for a series of DVDs of silent black and white documentaries held by the Scottish Screen Archive. One of them, the soundtrack for "St Kilda – Britain's Loneliest Isle", ended up being reviewed as "a great musical score" by Empire Magazine. It made sense to pursue things further. The Island Tapes" features original live music to five silent films recording life on St Kilda, Harris, Skye, Orkney and Shetland in the 1920s and 30s. Alongside David was Scotland's foremost classical guitarist Allan Neave, the Berlin- based fingerstyle maestro Ian Melrose and the superb Gaelic singer Alyth McCormack.
I was privileged to see this event as part of the Celtic Connections Festival in Glasgow last week, and I am currently writing up a review of this concert, which will be an exclusive - only available to subscribers of this Pixiport Newsletter - this review will be posted in the newsletter dated 15th. February, so watch this space.


Regular recipients of this newsletter will realise that there are many features on this site which are "timeless." So, we will feature here some of the great "archive" pages - articles and features that our new viewers will not have seen, but which are still interesting enough to take a second glance at - even if you are already an established "Pixiporter."
In the UK there was a well-established Television series in the 1960's called "Gardening Club." The host was a British personalty by the name of Percy Thrower. Percy once told me that when his programme was shot in colour for the first time it "brought the show to life." Of course that is the perception that most of us have about flowers, they just need to be seen in colour. However, when photographed by someone in black and white who happens to be a master of their art , then they can reveal textures that the human eye has never seen


If you enjoy reading our newsletter and taking time out to view the talented artists on Pixiport, then why not forward this e-mail to a friend who has yet to discover the delights of our site. Just ask them to click on the "SIGN UP" button above and within seconds they will be added to our mailing list.


From the very outset we have been committed to presenting the very best in Photography and Art to you - our audience. The concept of asking for paid subscriptions has always been foreign to us. However, keeping this site fresh and making sure that our readers are given every opportunity to enjoy all the latest trends does cost money.
If you have enjoyed your visit with us, then maybe you can think of us and just make a small donation via our Paypal facility. Thank you all for your continued support.


Sincerely,


Ken Windsor. Newsletter Editor.

Pixiport Fine Art Photography